A passport application submitted by an applicant, before requesting a passport, a new passport is printed and handed over to the applicant. A typical application has to be processed and it takes about 24 days to get a passport and in the case of Tatkal, it takes 3 working days to issue a passport. The only person who gets a passport by registered post. One can track the status of their passport application in three ways – (i) through online; (ii) via SMS and (iii) mPassport Services App. Check the step-by-step procedure for passport tracking given below.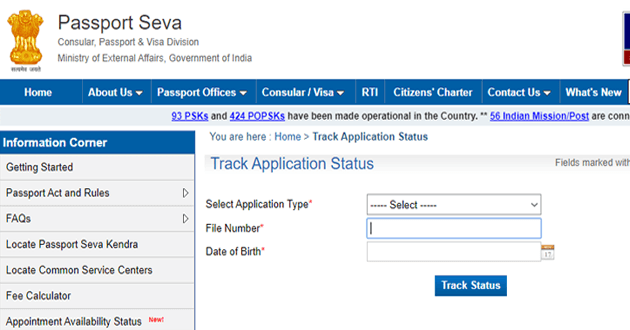 How to Check Passport Status By Website
Passport Status Steps
Go to Passport Seva website
Click "Track App Status" in the displayed page
Track application status will require three inputs from you to check the status of your application.
Select application type
Passport / PCC / IC / GEP
Right to information
Diplomatic / official application
Surrender certificate
Then enter "file number". The file number is given in your acknowledgment slip at the time of registration and is a 15 digit alphanumeric series. It is mandatory to check the status of the file number.
Then enter "Date of Birth" and click on "Track Status"
Status Tracker will give you the processing stage / status Passport application. The resulting application tracker page information is provided.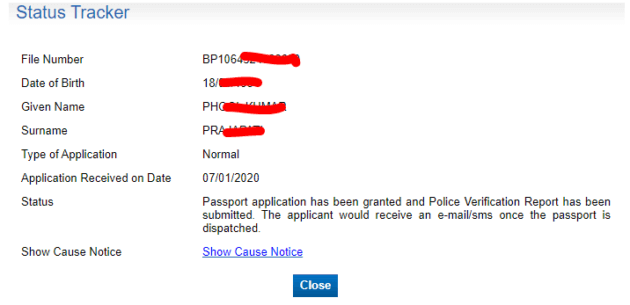 Passport Consultancy Service
If you want to get passport status through Passport Agent, you can click on the link given below. We will send you passport status via WhatsApp and email to you
If you want to get passport status, you can get online status for your passport agents and counseling services. Our services provide you with passport status information via email and WhatsApp. We have introduced passport agents and consulting services with the aim of serving our clients with the best and reliable online passport assistance in India. We apply strategic thinking, dedicated support, full effort, and practical approach.